When using a PID controller to perform advanced heating curves, a graphical interface based on LabVIEW is often a wish from our clients. Wizzo has, in the past years, developed many software applications that included communication with Eurotherm controllers from Schneider Electric.
The software applications allow the user to have full control of the Eurotherm device from a Windows desktop environment. In addition, it is also possible to read the process values and log data into a file.
Eurotherm
With an often used model, the Eurotherm 2400 series or Eurotherm 3500 series, we are capable of connecting multiple controllers to a single bus network by using Profibus or serial communication (RS-232, RS-422, RS-485). This provides you with the ability to use one application to manage all controllers.
Besides heating curves, the Eurotherm controllers are also applied in flow, cooling or pressure control circuits.
Easily Programming Advanced Curves
Wizzo has developed an application, in collaboration with Kracht, to control furnaces that are equipped with controllers of the brands Nabertherm and Bentrup.
Using this application it's possible to design heating curves with a graphical user interface. This application also allows logging and displaying the actual process value during a measurement.
A user can prepare multiple heating curves. These so-called batches can be stored locally and loaded into several types of controllers.
Using the Application
Programming advanced curves has become an easy task with Kracht's application. Using the ready-to-go presets, any curve can be programmed with just a few mouse clicks.
The desired heating curve is instantly displayed in the graph. Common control features like Steps, Dwells and Ramps can be placed at user desired positions in the program.
Batches
In the main screen of the application, batches can be created, opened or saved.
A batch can hold one or more heating curves. Organizing heat curves becomes very easy this way. More important, it reduces programming errors and allows standardization by re-using predefined temperature programs. Turning your furnace into an advanced system.
Making trends visible
The actual temperature and it's trend displayed, gives the end-user real-time insight in the process. The trending also helps determining the right PID-settings of the controller. Having the temperature curves displayed, undershoot or overshoot are easily detected.
Controlling the Controller
With the controller connected to the PC, the program can be stored into it's memory. Status information of the controller is instantly displayed, providing detailed information of the system.
The application can start or stop the downloaded curve in the controller. Whether a delayed start is defined or an direct action is programmed, the controller will follow the programmed path.

Exporting Data
The software application features export options to a variety of file types and formats.


With our PI and LIMS connector, we can extend the application with the option to log directly into PI or LIMS. More about Wizzo's PI and LIMS interface.

Nabertherm
Nabertherm is a German company and is well known for building advanced oven systems. Nabertherm builds ovens in a variety of fields such as industrial and laboratory.
The built-in controllers of Nabertherm can be connected to the application with a RS-422 communication cable. Kracht also has a USB communication cable available to make Kracht's application compatible to any of Nabertherm's controllers.
Communication with the following models are supported: P300, P310, P320. Other series can be upgraded with a Nabertherm communication module.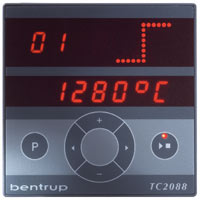 Bentrup
The furnace control application is ideal for communication with one or more Bentrup controllers. The Bentrup controller is a versatile and easy to use controller with an array of functions.
The Bentrup controllers extensive process feedback supplies detailed user information.
Communication with the following models are supported: TC2010, TC2044, TC2066 & TC2088.
Open Framework
The application's open framework allows extension to any capable controller. When your controller is not supported, a dedicated driver can be configured to make it compatible with the furnace control application.
More information?
Wizzo IT Solutions
De Trompet 2222
1967DC Heemskerk
The Netherlands