Reducing costs and optimizing profits is key in creating a healthy businesses. Having an economical advantage over the competition is essential. This is no exception for commercial marine vessels.
Fuel consumption represents an important part in operable costs. However how much information of the vessel do captains or ship owners have at their disposal? Do they exactly know the impact or the influence of weather, wind, current and fuel quality on the actual fuel consumption?
Acquiring Data
Wizzo developed a solution, based on National Instruments LabVIEW, which acquires relevant data from any system or instrument onboard of a ship. Relating this data to payload, weather, wind, current, fuel consumption and fuel quality, creates a complete and accurate picture of the actual and historical performance of the vessel.

Data Mining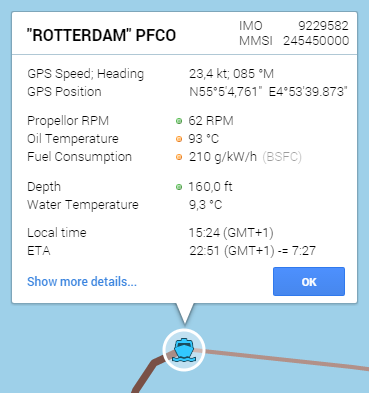 With this data available, the software becomes a powerful tool which gives a ship owner insight and the ability to accurately perform analysis. These analyses can then be used to adjust parameters of the vessel based on environmental behavior or weather conditions, which results in optimizing fuel consumption.
Adding maintenance information to this set of data, the effect of the vessels operation can be related to maintenance costs. Increasing the insight of the operational behavior on the ship and its machines.

Knowledge to the Cloud
Wizzo offers the opportunity to securely transfer the ship's data to our cloud solution, Measurements to the Cloud. This enables analyzing the data anytime, anywhere.

Dashboards at the Office
A complete and accurate dashboard can be presented at the office location. Having a full and real time report on a ship or a complete fleet and its performance.

Real-time Advise on the Bridge
Having the data available, real time insights can be displayed on the bridge. Reports, based on predefined parameters, can suggest an adjustment in speed, immediately optimizing fuel efficiency.
More information?
Wizzo IT Solutions
De Trompet 2222
1967DC Heemskerk
The Netherlands